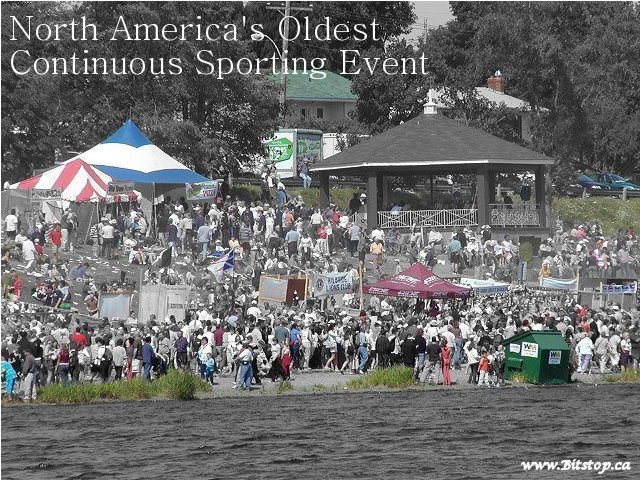 The Royal St. John's Regatta is quite possibly the most anticipated public event in the province. As this event has been held since 1818, this year will be the 187th Regatta Day. This exciting and historic day features not only the traditional oar races, but prize wheels, local cuisine, a brass band, and other concessions. Each year, up to 50,000 people attend the Regatta, which -- weather permitting -- takes place on the first Wednesday in August.
The following is an excerpt from Jack Fitzgerald's book
A Day at the Races
-- which may be checked out at our library -- detailing a rather humorous incident in the Regatta's history.
Three Stooges Day at the Races
The year 1936 was a historic day in the history of the Regatta. In that year, Quidi Vidi Lake area was made a National Park and named King George's Park. Yet for decades, townspeaople remembered the day for an episode that occurred near the finish line in the Fisherman's Race.
There was heavy betting at lakeside on the Fisherman's Race with Torbay and Outer Cove the favoured teams. The two crews were neck and neck nearing the finish line when an Outer Cove fan, feeling the effects of, "... tipping too much of the National" (excessive drinking) waded into the water and tried to swim out to the boats. Not to be outdone, a Torbay man, feeling equally as daring, went after him. he too had been 'tipping the National' and had forgotten that he couldn't swim. When the water came up to his neck he suddenly realized the dangerous predicament he was putting himself in and stopped. Just as he was turning to head back to shore, a Blackhead fan ran out in long-rubbers to help but collided with the Torbay man and two of them went under. Meanwhile, the Outer Cove man had heard the shouting from the banks and, seeing the two in trouble, swam to their aid. The two managed to get a footing when the Outer Cove man came charging in and knocked the two back underwater. The three then pooled their efforts and helped each other back to the banks and safety. A tragedy was averted. The Torbay crew won the race but Torbay came close to losing a fan.
You are listening to On the Banks of Newfoundland.